More Bargains – you should read this!

More Bargains
More bargains for you lovely people toady! I have added a link at the top of this page for a new company that I have found called Star Bargains. They really are worth checking out if you need/want to save money on your shopping. With free delivery with a £40 spend I am sure you will be pleasantly surprised by the range that this company has to offer.
Let me know if you check them out and tell me what you think
Baby Bargains
I have had some fantastic news! I am going to be a great Auntie again! Can you tell I am so excited for the new arrival? I have already started shopping. I love having a new baby to spoil and this one will be no exception. Luckily I have a source of some fantastic products which I would love to share with you now.

Little Ratbag is a fabulous company specialising in baby and children's clothing. They have all you could need form bibs to vests and a lot more in between.
I love this one and I know my sister (nanny) would love this!
Card Bargains
Alongside giving a gift I also love to give a card. Although many card shops exist they usually offer the standard cards, which is fine in itself. But just sometimes you want to give a card with a bit more meaning or personal to the person you are giving it to. In these instances I turn to my favourite card shop.
Creased is an exciting and unusual greeting card and gift retailer – with a great focus on humour cards and gifts, as well as more premium handmade and sought-after products
I would suggest that you check this site out – but be warned you need a good sense of humour! And not mind expletives!
Here is the link if you would like a laugh!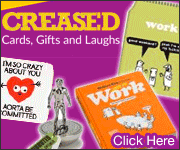 Please share
If you enjoyed this post please do me a huge favour and share it! It would mean the world to me.
I will be back soon – just as soon as I have checked out some new bargains or ways to make money!
If you know of any great deals or ways of making money please fee free to drop me a message. My email address is sarah@cashmum.co.uk. This inbox is checked multiple times a day!
Until then, stay safe.
S xx
Disclosure: Bear in mind that some of the links in this post are affiliate links and if you go through them to make a purchase I will earn a commission. Keep in mind that I link these companies and their products because of their quality and not because of the commission I receive from your purchases. The decision is yours, and whether or not you decide to buy something is completely up to you.
Please follow and like us: