Write to Santa – now is the time to act!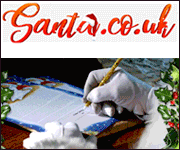 Santa are you there?
Waiting to Santa has never been easier. He is getting very busy at this time of year. So now is the time to act if you would like a reply.
He lives, as we all know, at the north pole and post can sometimes get held up. Here is a way for all of you to ensure that this doesn't happen to you.
Imagine your child/children's faces when they receive a letter from the man himself.
Santa Calling
Now how about this for a change then. You can receive a call from Santa. Imagine that! Your child would have the ultimate bragging rights at nursery/school. The grandparents will never believe it. Just click on the link to be taken directly to the site where you can arrange your call
You have a new message
Of course Santa isn't behind on technology – oh no. He has recently got a new phone and he has UNLIMITED texts. He has decided that he would like to send as many texts this year as possible. I am more of a text person so I'll be booking this.
However you want Santa to contact you let's get started today! There isn't many more weeks left.
Well I think that's about all the ways I can help you contact Santa for now. Let me know if you do try any of the above. I would love to hear how you get on.
I'll be back soon with more ideas to get your Christmas sorted.
Disclosure: Bear in mind that some of the links in this post are affiliate links and if you go through them to make a purchase I will earn a commission. Keep in mind that I link these companies and their products because of their quality and not because of the commission I receive from your purchases. The decision is yours, and whether or not you decide to buy something is completely up to you.
Please follow and like us: