You don't want to miss this!
You don't want to miss this!
So you really don't want to miss this. Today I am going to concentrate on saving you money on your everyday shopping. I have found that this is an area where I have been asked for the most help and I am more than happy to oblige.
For starters I shop in the discounters. Aldi and Lidl have superb products at a fraction of the cost of the major supermarkets. That's not to say you can't find deals in other places.
Once of the other shops (if you can call it that) is Approved Foods.
They are an online company based in the UK. They sell products that are near to or past best before dates. Sometimes they have products that other retailers would find difficult to sell.
Today, for example, they have Walkers mixed variety crisps (12 packets) for just 50p. If your family, like mine, love crisps then this is a bargain! Delivery is free if you spend over £55 or if you don't hit that spend minimum then delivery is just £3 for a box up to 25kg. That is quite a lot of shopping.
Sign up and you might just get a free delivery coupon as well. Win-Win situation!
Check them out here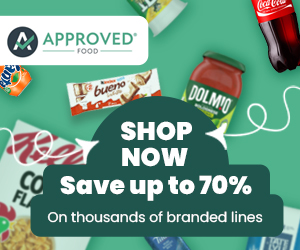 Many other supermarkets also have great deals on at the moment and so it's a great time to sign up to some more sites and get bargain hunting.
Morrisons very often have offers on their website that you can't get in store.
I have just had a look today and they have some fab deals such as Persil Washing Liquid for just £3 (was £7)
Click on the link above to find out more.
Pets
I haven't forgotten our much loved pets in this section either. I know this is something I have mentioned before but if you are after medication for your pets then I highly recommend VioVet. They also do pet food too so it might be worth seeing if you can save on this also.
Contact me
That's all for today. Remember if you find a bargain and would like to tell me about it please feel free to contact me.
Speak soon
S xx
Disclosure: Bear in mind that some of the links in this post are affiliate links and if you go through them to make a purchase I will earn a commission. Keep in mind that I link these companies and their products because of their quality and not because of the commission I receive from your purchases. The decision is yours, and whether or not you decide to buy something is completely up to you.
Please follow and like us: